Even with regular servicing and lots of TLC, your pressure washer can still break down from time to time. Parts wear out, dirt and debris can cause blockages which in turn can damage the motor, valves, or fittings, and obviously the more complex the machine the more that can go wrong.
9 out of 10 repairs can be completed on site
Our field engineers can be on-site within 24 hours of your call, and carry a wide range of parts and accessories, so 9 times out of 10 we can complete the repair on-site, quickly and efficiently.
Indeed, as a company that doesn't simply sell off-the-shelf machines (we also build bespoke machines), we know the equipment inside and out and can solve most problems quickly and easily.
However, if your machine cannot be repaired on-site our engineer will arrange to have the unit brought back to our workshop where the repair can be completed.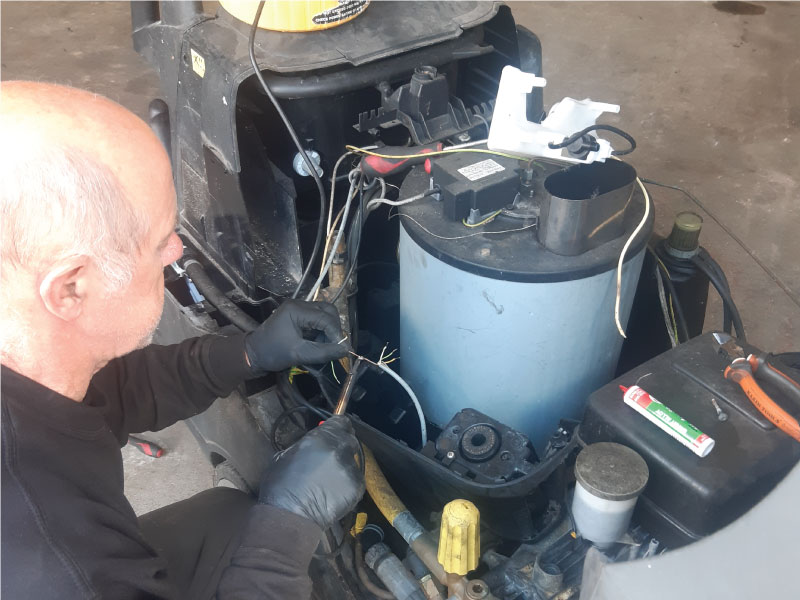 We know how they work and we know how to fix them
Whether you've got a simple, electrically driven unit that runs off the cold water mains or a petrol driven machine with integrated burner and steam generating facility, we can help.
Our field engineers' training is extensive and covers all of the components that make up a pressure washer; from the electrical motors and pumps to the petrol/diesel engines used to power industrial units.
If you've got a problem with a pressure washer, or you'd simply like to know more about our repair services, please call us on 0113 512 4494 or fire an email to info@pressurewashersnorthern.co.uk and we'll put together a plan that works for you.
I really didn't think this was fixable but the guys at Pressure Washers turned it around in just a couple of days, great work.
The guys at PWN always keep us going, great staff who know their stuff and so reliable.